Top 10 Best John Travolta Movies
Written by
Top 100 Arena
on
2012-06-18
The days where Vinnie Barbarino rule the classroom have long gone, but the man who played him has been going strong ever since. Since the early 1970s, John Travolta has been the epitome of "cool." Who needs Fonzie when you've got Dannie Zuko leading the pack? We've gone back down memory lane, and found our favorite top ten John Travolta movies. Some of them might surprise you.
10 Wild Hogs
Ok, we know some folks have put this on the worst list, but we just couldn't bring ourselves to keep it off the list of our faves. "Wild Hogs" doesn't pretend to be anything other than what it is: a movie about four middle aged men bored with their lives who want a bit of adventure…and get more than what they bargained for. It's great for light viewing, and John Travolta plays the part of broken hearted Woody, the wealthy businessman whose gorgeous wife has left him. Ray Liotta makes an appearance as the requisite bad guy, and seems to thoroughly relish his role. All in all, a great light-hearted movie for when you just want to escape for a bit.
IMDB Page
9 Hairspray
John Travolta in another dancing movie? Whoda thunk it? This time, though, he doesn't play a brooding young man determined to make it to the top. Instead, Hollywood's sexiest leading man plays mother Edna Turnblad, and is absolutely magnificent. It's always been a tradition for the role of Tracy to be played by an unknown, and for her mother to be played by a man, and Travolta and Nikki Blonsky have a definite chemistry in the film. It's kitsch, it's eccentric, and Christopher Walken is an added bonus as Tracy's father, Wilbur Turnblad.
IMDB Page
8 Look Who's Talking
The first one, and only the first one. The sequels, not so much. This 1989 flick officially signaled John Travolta's revival as a movie icon, after several years of flops and a dry spell in between. Travolta plays an unassuming New York City cab driver named James suddenly thrust into the role of fatherhood when he's mistaken for businesswoman Kirstie Alley's husband while rushing her to the hospital to give birth. You know this isn't just another chick flick when the opening scene depicts sperm fighting their way to the egg, and Bruce Willis as a voice over for baby Mikey is absolutely priceless.
IMDB Page
7 Blow Out
This 1981 flick is a true thriller in every sense of the word. It is one of Travolta's nearly forgotten gems among an abundance of chick flicks and dance movies. "Blow Out" tells the story of a young sound man whose job it is to record sounds for movies. One day Jack (Travolta) records sounds on a bridge when an accident occurs. It turns out that the accident involved a car carrying the state's governor who had his sights on the presidential race. Also in the car was a high-dollar prostitute. A cover up ensues, and Jack begins to suspect that the accident might have been foul play. Truly a must-see if you want to see a young John Travolta in one of his best dramatic roles ever.
IMDB Page
6 Get Shorty
John Travolta has a thing for kitsch, and "Get Shorty" is a prime example of this. The film is based on the highly acclaimed novel of the same name by Elmore Leonard, and Travolta's character is actually based on a gangster Leonard once knew. The story centers around a Miami gangster looking for a way out of the crime business and ends up in Hollywood on an "assignment" to collect money from Harry Zimm (Gene Hackman). Chili Palmer (Travolta) decides he likes Zimm, and instead of killing him, tries his hand at the movie business. The goal? Get Shorty, the highly sought after actor played by Danny DeVito for a project Zimm is trying to get off the ground. The movie satirically portrays the corruption so prevalent in the entertainment industry, all while staying true to the novel. In short, "Get Shorty" is pure gold.
IMDB Page
5 Phenomenon
This understated film about a man who sees a flash in the sky on his birthday and subsequently becomes a genius is both beautifully written and expertly portrayed. Travolta plays George Malley, a mechanic in a small northern California town who suddenly becomes super intelligent, capable of telekinesis overnight after he sees a bright flash of light in the sky. He falls in love with newcomer Lace Pennamin, a chair maker and divorcee starting over, and quietly supports her business by buying as many of her chairs as will fit into his home. The townsfolk wonder why a simple mechanic suddenly has an incredible gift, and he undergoes extensive testing to find out why he suddenly has become a genius. The first half of the film moves along quietly, while the second half will leave you filled with intense emotions. Definitely a must-see.
IMDB Page
4 Saturday Night Fever
John Travolta plays a young and self-centered young man named Tony Manero, whose weekends revolve around the Brooklyn disco scene. He lives and breathes dancing, and his volatile home life is just one more motivation to get him out of the house and on the dance floor. When Tony dances, people watch. He is the King of Disco and he knows it. But the story is more than just a dance movie. It's a compelling look at society in late-70s New York. Rape, racism, abortion, religion – all heavy topics are adeptly addressed, and the storyline expertly acted. This isn't just a kids movie. It's a movie with adult themes, but with some great dancing.
IMDB Page
3Grease
We really wanted to make this our number one John Travolta movie, but we realized that there are two better movies out there, despite the fact that "Grease" is one of our favorite all-time movies. The plot? Simple. Boy meets girl, they fall in love, they go back to school where the boy is the leader of the T-Birds and the girl is "too pure to be pink," a reference to the Pink Ladies 'gang.' Danny Zuko and Sandy Olsen are made for each other…they just need a little bit of privacy and independent thinking to figure it out for themselves. Instead, Danny tries hard to be cool, while Sandy tries to figure him out. The story is filled with sophisticated sexual innuendo ("Greased Lightnin', anyone?) but children won't get it, and adults won't care. The film is essentially a 110-minute dance number, with a plot thrown in. But that's OK, because everything about this movie, from the story line, to the music, to the dance moves, is enough to make anyone want to get up and dance, dance, dance.
IMDB Page
2 Primary Colors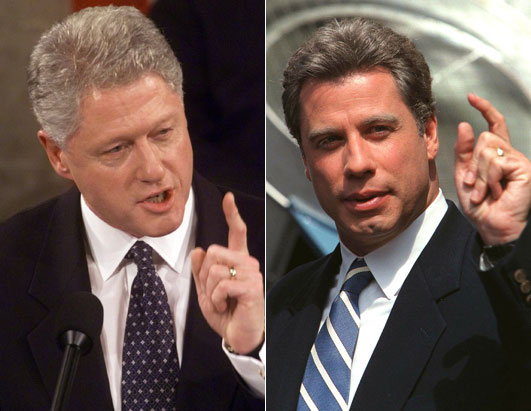 Adapted from the book by the same name, the film is loosely based on the life of former president Bill Clinton during his first run for the White House. It wasn't Travolta's most popular roles, but it was one of his best. His portrayal of Jack Stanton was impeccable, and we see a conflicted, deeply principled man who struggles with his adulterous urges. Emma Thompson as Jack's wife, Susan, is brilliant, and she does the equally smart dialogue justice as a beleaguered wife with her own set of issues and goals. At times funny and sad, emotionally moving and vexing, it's probably one of the best movies about the dirty truth behind politics ever made.
IMDB Page
1 Pulp Fiction
Yes, we put this film in the number one slot because, quite honestly, it is genius brought to life. You've got John Travolta as Vincent, a mobster with a penchant for reading and street philosophy, and Jules, his partner who has a penchant for spouting off scripture before killing his victims. Quentin Tarantino wrote a glorious script about a mobster given the job of watching his boss' wife for a few days while he's out of town. The dialogue is smart, witty, and gives two vile criminals a sense of being human immediately, as the opening scene has them discussing what a Big Mac is called in other countries. So, just what is the whole point of the movie? Well, that's hard to pin down, other than pure power. Vincent's boss Marcellus (Ving Rhames) is absent for most of the movie, but the power he holds over his hit men is so strong, that even in his absence they worry about making him angry. The movie has murder, a bit of romance, lust, drugs, and a deep appreciation of a "tasty burger." This is, hands down, John Travolta's best movie ever. Definitely a must-see, even if you don't like Tarantino.
IMDB Page
---