Top 10 Rum Brands
Written by
Top 100 Arena
on
2012-06-14
Rum is a liqueur with a minimum base alcohol volume about 35 percent and is made from cane sugar. There are three main varieties of rum: white, gold and dark. The five main factors that affect a rum's flavor and overall quality are the type of sugar used, the length of time it was allowed to ferment, the type of still used, the length of time it was allowed to age in the barrel, and the strength of the rum at the time it was bottled. Rum is historically considered the drink of navy men, sea captains and pirates. Below are the top 10 rums for drinking straight or mixing in cocktails.
10 1 Barrel
One Barrel Rum was recently featured in Men's Journal and has a much lower price point than many of the other rums on the list. One Barrel is made in Belize at a small distillery and has a rich tobacco flavor that is distinctly different than all other rums in its class. It also has discernible hints of coffee, nut and caramel in its rich and unique bouquet.
Website for additional information:
Here
9 Pyrat Cask 1623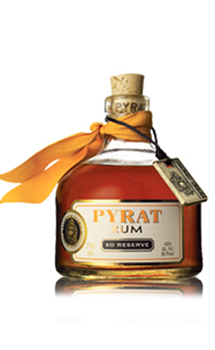 Pyrat Cask is a limited edition rum made from the finest blend of Caribbean wines to inspire the pirate in everyone. Rums are aged up to 40 years in the cask before bottling, and have a strong Cognac like aroma, and a viscous texture. It has a smooth finish and a brassy color. Pyrat uses baking spices in its rums, so they have a rich buttery flavor and an earthy bouquet.
Website for more information:
Here
8 Santa Teresa 1796
Santa Teresa is a Venezuelan rum that is both pot and column distilled for a purity beyond measure. Local molasses is used as the base for the rum. It is then blended using four layers of oak casks, and the solera aging system. Blended rums age for between four and thirty-five years before they are added to the barrel system. The resulting rum is golden in color and has a rich toffee flavor with a hint of cocoa and spice.
Website for additional information:
Here
7 Old Monk Rum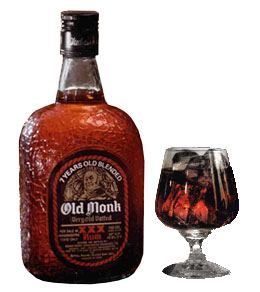 Old Monk Rum is dark rum aged and blended seven years in India. The rum is vatted and aged with whole vanilla and a number of other ingredients to create a heavily spiced flavor. Old Monk is the third most purchased rum in the world, and is by far the most popular rum made in India. It was first marketed in 1854, and has received a gold rating every year since 1982.
Website for additional information:
Here
6 Prichards' Fine Rum
Prichard's Fine Rum is produced in the Tennessee Mountains from molasses syrup. It is cooked down slowly in a copper-pot still and then filtered through maple charcoal. It is aged in oak barrels until a medium-golden rum results. The palate has echoes of Tennessee whiskey, vanilla and roasted nuts. There is also a smooth cider-like flavor which is undeniable and lends itself well the rum's smoothness.
Website for additional information:
Here
5 Pusser's British Navy Rum
Pusser's is what made rum a part of sea legend. Pusser's has been produced in a wooden barrel still on the British Virgin Islands for more than 300 years. In the early 1700's it was thought key to a seaman's health, and each shipman was allotted a pint of Pusser's per day as part of their rations. It is a blend of six different rum varieties and has a rich and distinct flavor.
Website for additional information:
Here
4 Ron Zacapa 23
Ron Zacapa 23 is a premium rum aged between six and 23 years in the Guatemalan mountains. It has is 40 percent alcohol by volume, and has won numerous awards. When taste tested at the Beverage Testing Institute, Zacapa was given a score of 95 out of 100 possible points. It has also be inducted into the Hall of Fame at the International Rum Festival. It is made only from the first pressing of high-quality sugarcane and is then blended like a sherry.
Website for additional information:
Here
3 Mount Gay Special Reserve
Mount Gay is the oldest distillery in Barbados, and has a wide variety of excellent rums. The white special reserve has a rich caramelized flavor that mimics butterscotch. The slight nutty flavor and hit of fruit extract create a rum that has a smooth tanginess.
Website for additional information:
Here
2 El Dorado
El Dorado, the lost land of gold, in this case liquid gold. The rum, made in Guyana, is aged 15 years before serving. It has won a gold metal for its flavor and texture multiple times and has a notably complex flavor. It has a texture similar to cognac, but a woodier overall flavor. It made Forbes list of top 10 Rums, and was especially preferred over other aged liquors.
Website for additional information:
Here
1 Black 33 OP
Black 33 OP, made by the Inner Circle Rum company in Australia, has won the Best Rum in the World award every year for the better part of a decade. Black, 33 Over Proof has a base alcohol content of 75.9 percent by volume. It is a pot-distilled dark rum that was first produced in the mid-19th century by the Colonial Sugar Company. No matter what your price point, there is an excellent and well-designed rum that will meet your needs. If you are interested in stepping back in history, and experiencing the liquor of the seas first hand, take the time to savor the flavor, and only drink the best.
Website for additional information:
Here
---